It's been quiet on the Nest front, because we moved. My job relocated me this year, and so I shut down breeding for the season. Unfortunately, those eggs that did get laid didn't do well with the move. I had one clutch that was laid on moving day that didn't make it, and another clutch laid a week later that has one little egg hanging on for the moment.
The bright spot however, was a joint project with Deborah Stewart of
Stewartreptiles.com
and we produced the world's first Enchi Pin Pied!
Here's the handsome devil on the left with his brother - who may also be Enchi Pin Pied, but we're leaning towards Pin Pied.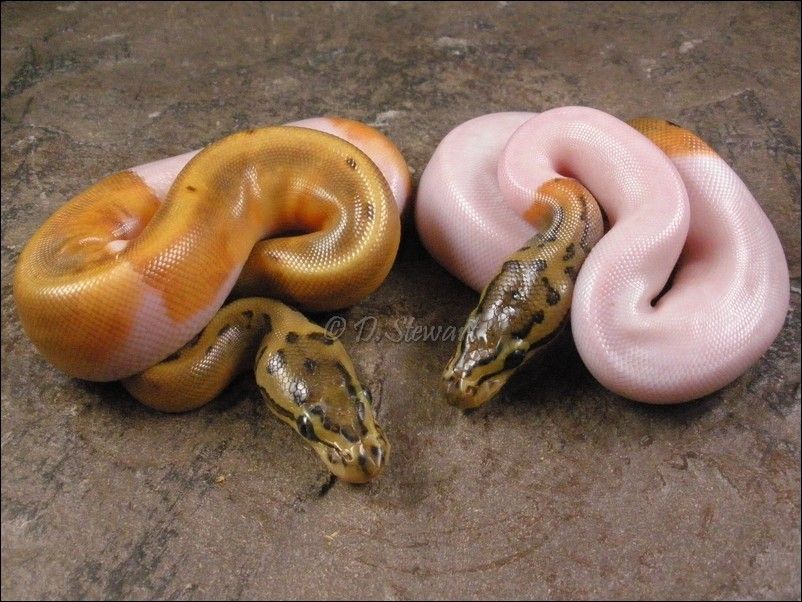 And the whole clutch after they shed - photo's all courtesy of Deborah Stewart.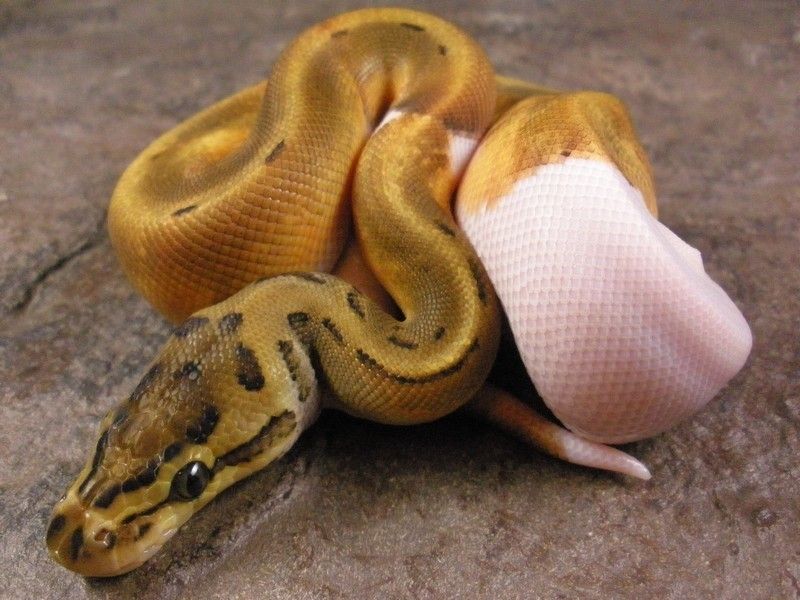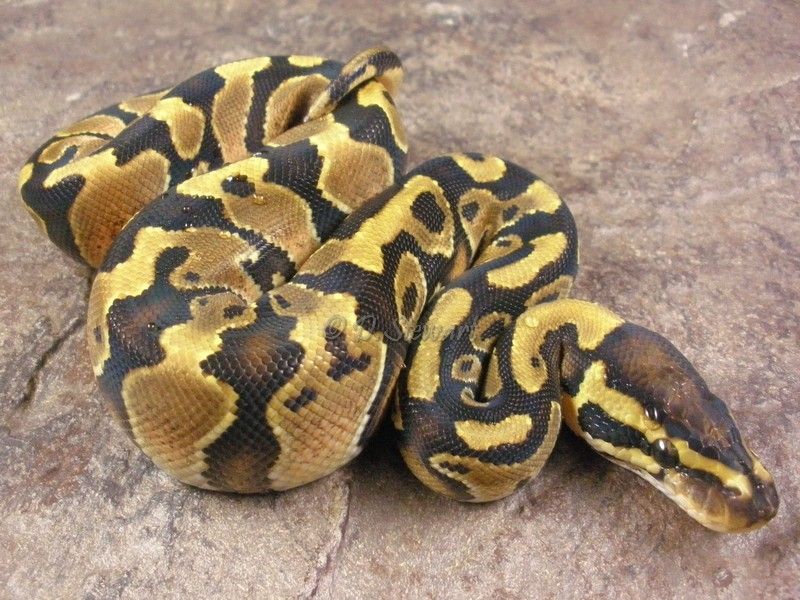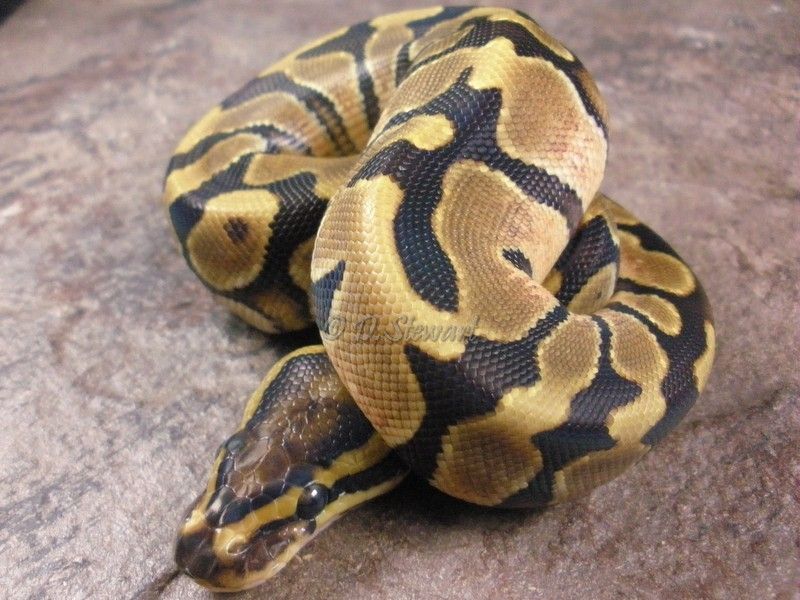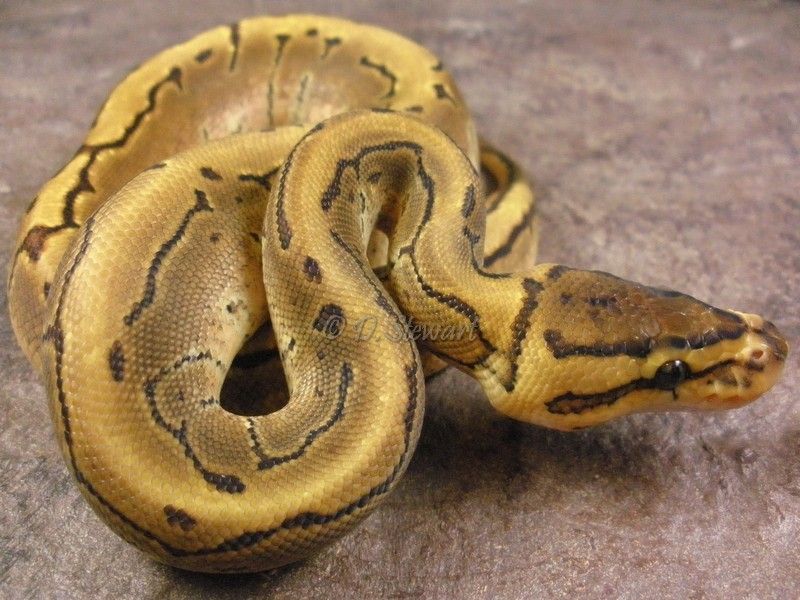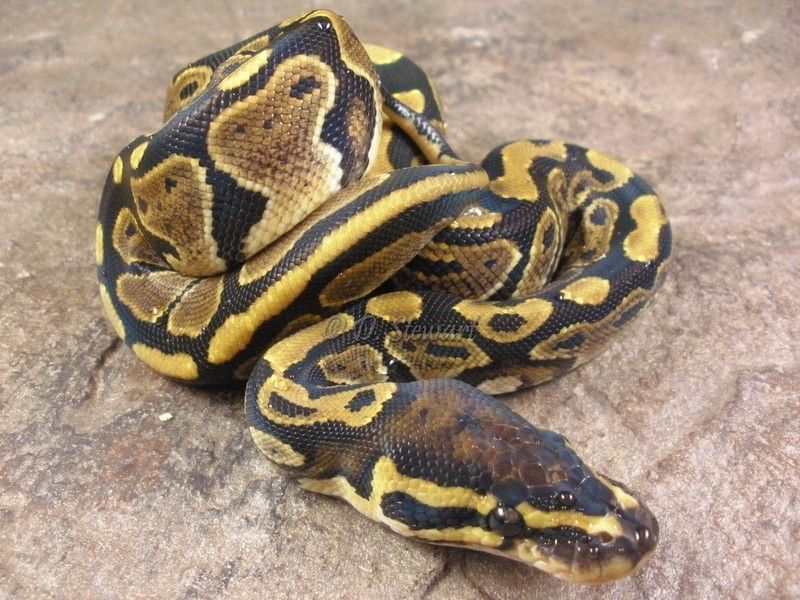 Honestly? I wish that I did, but I have a problem, and I guess it's a good problem to have. My babies keep selling before I even get a chance to put them up for sale.
I've got a couple critters that I want to get a few meals into before I make them available, but I do have inquiries on them already. If those inquiries fall through, then I'll put them up here.
Anyway - had a really nice time last week and picked up a new fire male from Justin Kobylka. He's all I hoped for! I'm very excited about the growth of my collection. I reluctantly moved out a few of my founding normal females to make grow out space for some of my morph girls, and this coming season looks promising!
Hopefully more clowns, some lesser combo's, lemon pastels, mystics, enchi/pin/pied combo's, enchi/pin/lesser het pieds, spider combo's, black back cinnies, and maybe some hypo cinnies if my poss het cinnie male proves out.
Here's the new kiddo.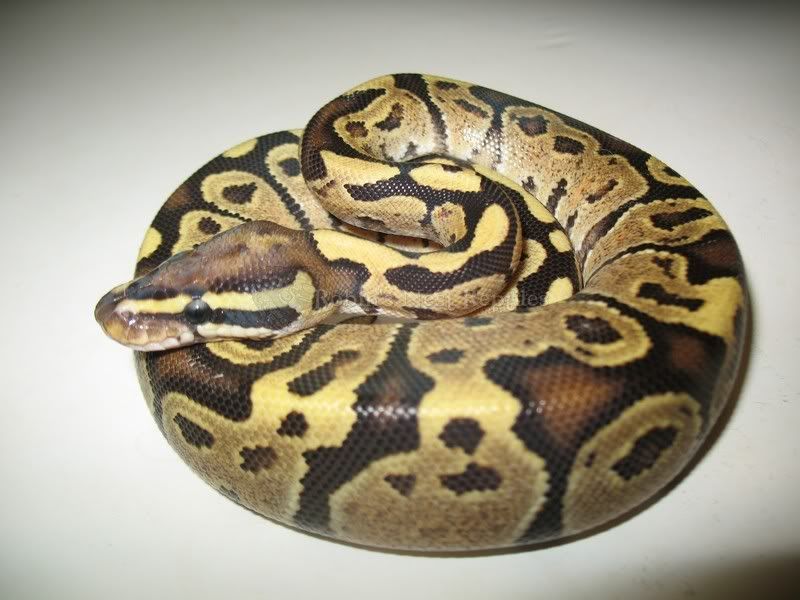 So, I'm trying to be better about updating this journal. I know how much "I" hate going to a site that's not updated much, yet I'm guilty of the same thing. I guess I don't think that I have anything earth shattering to share!
So anyway, enough of that! Here's a few updated pictures of the clown female I produced. But first, let me say - it is rewarding beyond explanation to have produced her myself, rather than buying a clown outright. I guess for ME buying one would be kind of like "cheating". Not putting in the work. Producing one myself is so much sweeter! And I can't wait to produce more this coming season!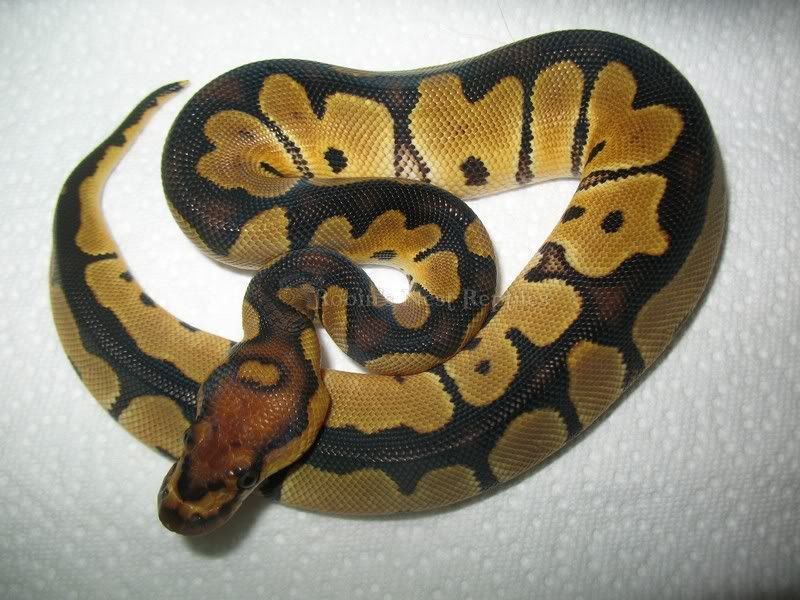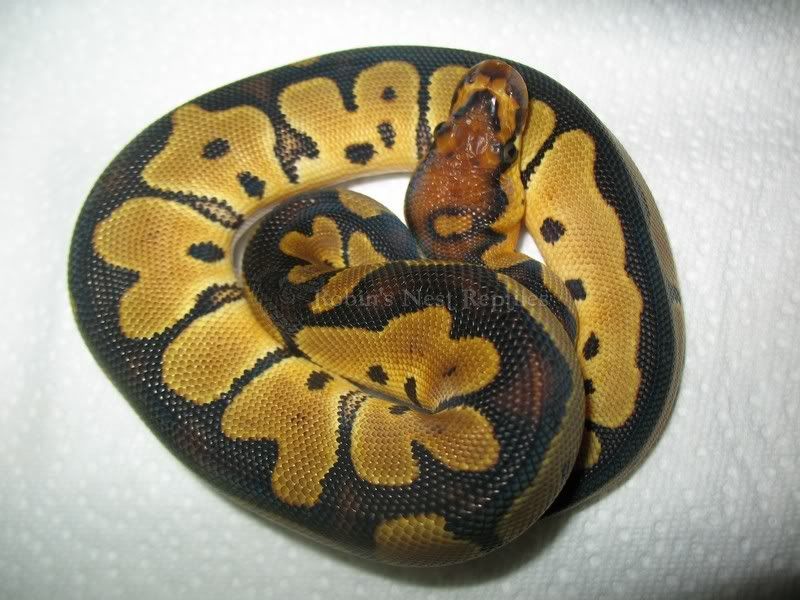 Man I love this little girl! I am going to have fun raising her up!
So, we went to the first Repticon ICE show held in Myrtle Beach, SC - and while I didn't have a wish list when I went, I did come with some cash, open to picking up an animal if something spoke to me.
Well - something did speak to me! This beautiful little fire female. See how she has a similar head dot to the clown? I didn't get her because of that, but thought it was kind of cool once I realized it. My hope is to create some vanilla creams in the future, so the Nest needed to add a fire (or two - more on that one in another post in a week or two). Vanillas are next!
I hope you enjoy the pictures of the fire as much as I enjoyed taking them!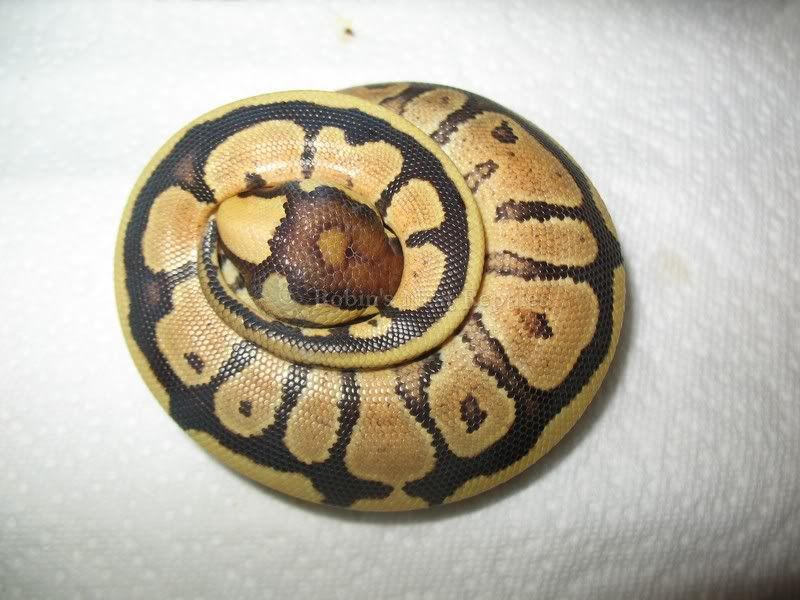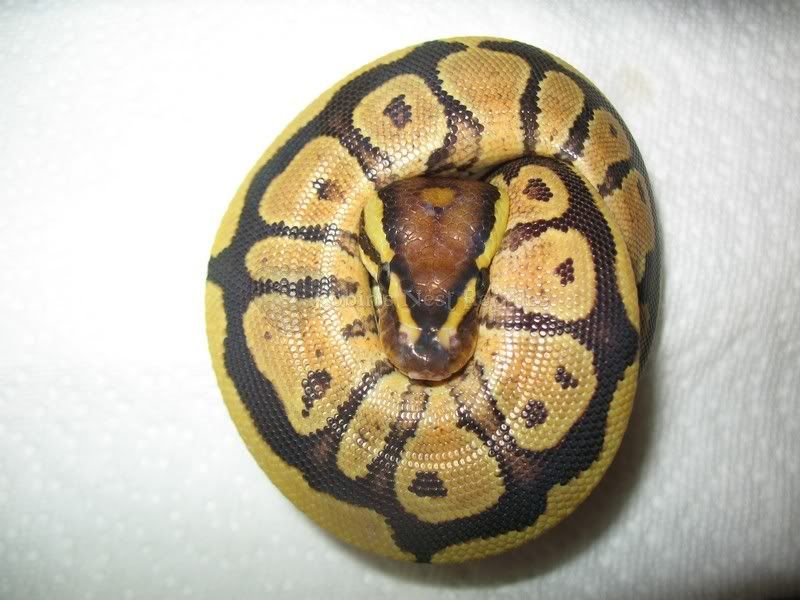 When I first got into ball pythons, I also was interested in several of the recessive genes - pieds, hypos and clowns. Clowns were really my first love in the recessive genes.
I purchased a het clown male from Justin Kobylka back in 2006, and produced three different clutches of possible het clowns and held back the females.
Then I acquired two 100% het clown females from two different sources and decided to put my male to one of the females this season. She laid six eggs, and I basically set them up, put them in the incubator and tried not to think much about them. They were my last clutch, and I just didn't want to set my hopes too high and be disappointed.
Well, I'm happy to announce that I produced my very first clown, a beautiful female, who I have decided to name Yumiko, which means "dream child" in Japanese. I thought it was fitting!
Here are a couple of her hatch day pictures - I'll of course update with pictures after her first shed. Not only did I produce a clown, I produced one that I probably would have picked out if I were in the market to buy one. I'm completely smitten with her!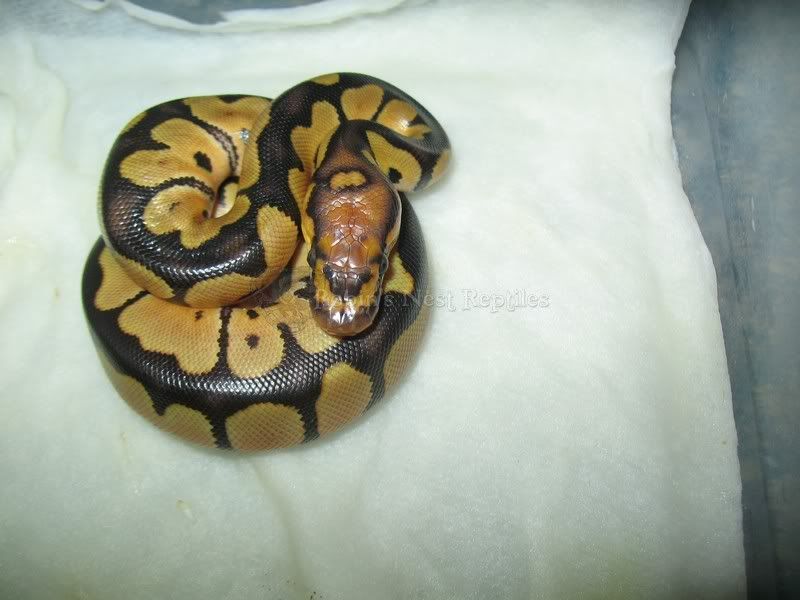 I'm not too disappointed with the poss hets either!
Wow, it's been quite awhile since I last updated the journal!! I'll be honest, went through a spell where I was just going through the motions with my collection, and wasn't really excited about it. When you take the time to slowly build a collection with an eye towards selective breeding, it can feel like you are just watching everyone else pass you by.
Well, this year I've had a few clutches that made me excited again, and I'm super excited for this next season!
The first clutch to hatch this season was my black back cinnamon to a beautiful black back normal. I couldn't be more pleased with this clutch!
I got my girl!!!
and her brothers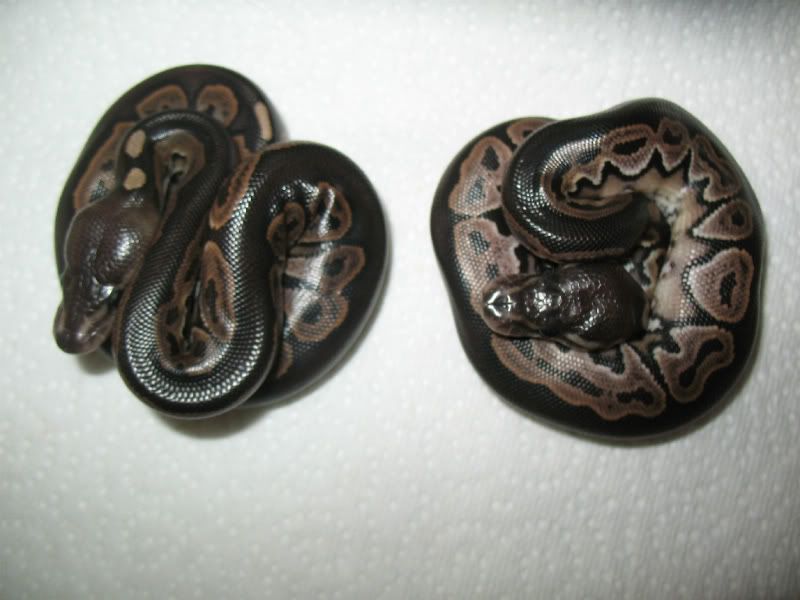 They've all been spoken for!
The next clutch was actually my het hypo on breeder loan to
Stewart Reptiles
and bred her Pastel Orange Ghost (POG). We proved her out with a beautiful POG male! The rest of the clutch was two female pastel het hypos and two female het hypos.
Of course, I had to breed Winston, my lemon pastel to two females who have thrown georgeous lemon pastels in the past and they didn't disappoint again this year!
First clutch: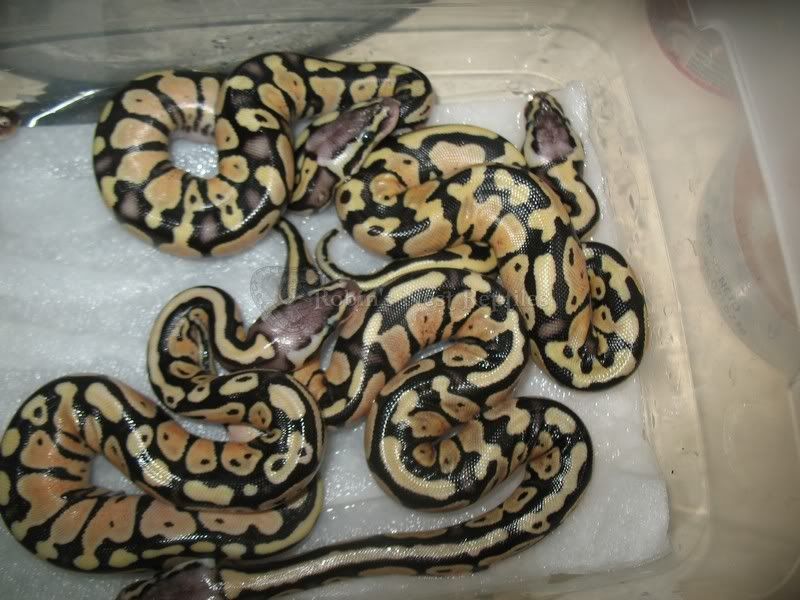 Second clutch:
I've got one more highly anticipated clutch in the incubator that I just cut tonight. I'll close this with that teaser, and post pictures when they come out!
I'm very excited to introduce this new boy to you all! He's going to be a real powerhouse animal to Robin's Nest Reptiles.
I had the pleasure of visiting NERD last month and spending a few days with them and seeing all the exciting new animals that they are producing these days. Kevin, as always, was a gracious host and it's always so nice to see him in his element, being a HUGE hobbiest breeder at heart, excited about each surprise that comes out of his egg, and essentially out of his Evil Morph God mind! LOL
While there, I chose a new male to add to the collection. He's an Enchi - Pinstripe - Bengal - Het Pied. NERD doesn't have anything up yet on their site about the Bengal, but it's Kevin's line of genetic banded animals, and I got to see one in person, as well as some of the combo's Kevin has used them in. Let's just say, I'm uber excited!
I know that I read often "pictures don't do this animal justice" and truly, pictures don't do this animal justice. Just ask Deborah Stewart of Stewart Reptiles, who was nice enough to "babysit" this boy a few weeks for me, after NERD shipped him to her address so I wouldn't need to take time off from work to receive the package. She e-mailed me when he arrived - "he's here - and OMG - he's HOT!!! I want one now!".
I met Deborah yesterday to collect him, and I'm still stunned by just how hot he is! LOL
Here's his picture from NERD's Website:
And a few that we took of him, before I flew home from another AWESOME visit!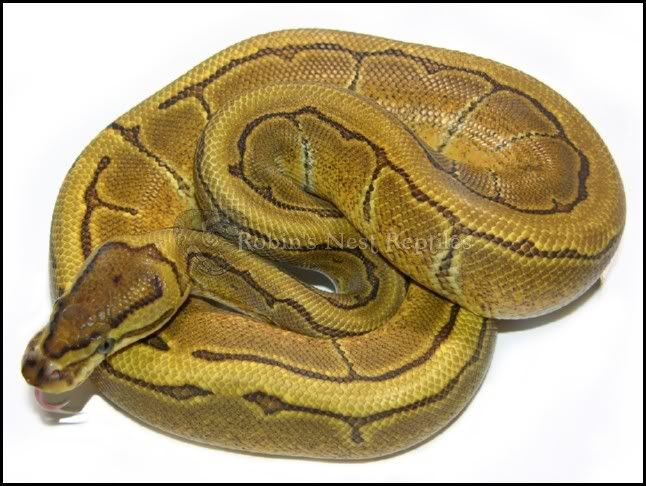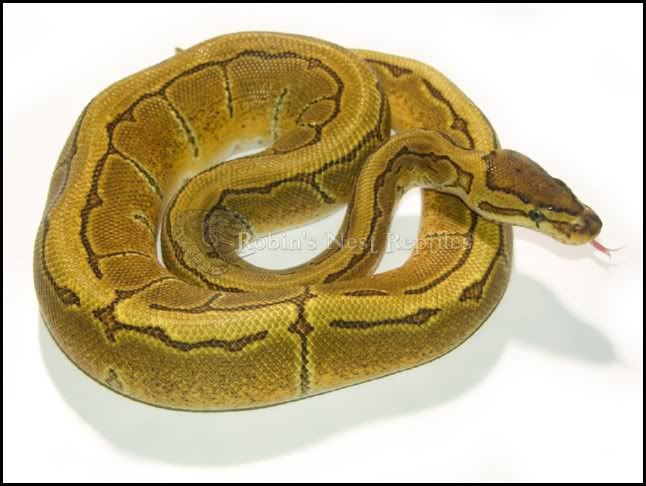 I cannot believe I haven't posted these new additions to the nest yet. I go to reptile shows open to adding new animals, but never expecting too, because I'm so picky about the animals I add to my collection. It's been rare that I've found animals at shows that meet my standards for color and patterning when I'm shopping for a particular morph.
It also usually takes me months to find my ideal "perfect" animal when I decide to add a new animal. And sometimes - I just stumble across an add (like the pastel below) that makes my jaw drop and I know I have found the perfect animal.
So, in July, I went to the Repticon Atlanta show expecting to just window shop, but with money in my pocket "just in case". I certainly wasn't shopping for other species of snakes, but I stopped by Ben Siegel's table and these two stopped me dead in my tracks. I've been a big fan of the Pituophous family, but never thought seriously about adding any - and part of that is that I've mostly seen them on "flipper's" tables and I just don't care to support them.
Well, Ben's a good guy, he's been on the forums and several trusted friends have purchased from him in the past and we started chatting. He made me a nice deal on the male and I broke and got him. But then my enabling friends kept saying "you know - you really should get the female too - you may decide you want to breed them one day". And of course I've caved. But both of them also swear that they want a baby from them if I ever decide to breed them.
For now - they're just cool animals to add to the collection for my personal pleasure, and I LOVE them. They are such cool animals, with great temperments and I just smile every time I open up their tubs and take them out for handling, and am very pleased to have them. I certainly don't regret the purchase!
This is the female the day of the show: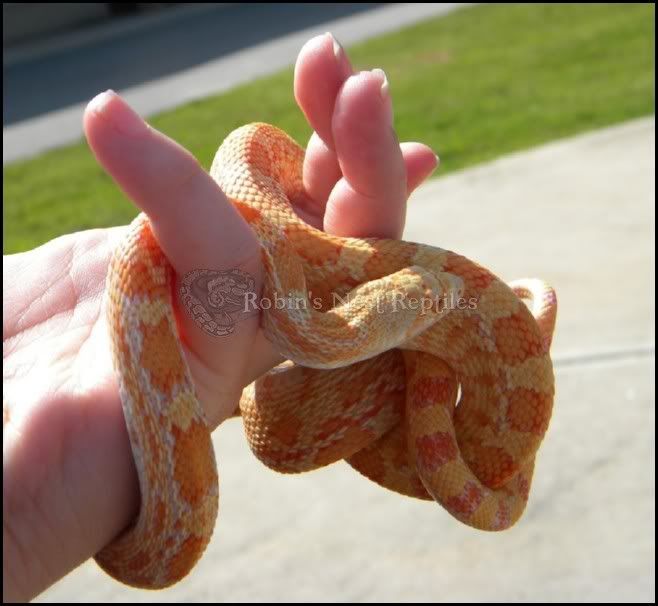 This is her when I got her home: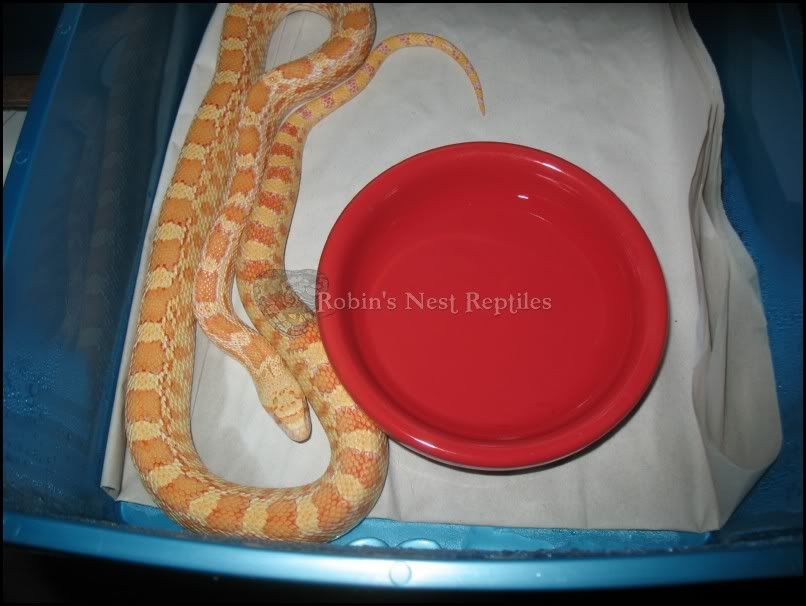 And this is the pretty boy:
This is the second year that I've not made the Daytona trip, and for some reason, this year I'm sadder about it then I was last year. So - I have to live vicariously through my friends who did make it down there. Thank goodness for smartphones, texts, pictures, etc - at least I feel a "teensy" bit a part of it.
Anyway - this season was not a very good season for some reason. I had two babies in one clutch that twisted in their umbilicus cords and didn't survive. Both were lemon pastels, sadly. Then the second clutch of lemon pastels only had one pastel in it. My mojave clutch was a gorgeous clutch of eggs.....but infertile - every single one of them. Wow!
It's been a weird year - a lot of breeders are having late years, weird things happening to clutches, birth defects and what not. Or at least that's what it seems on the forums. The 2011 season has GOT to be better!
In the meantime - I'm looking forward to WARE in September - the West Alabama Reptile Expo that's promoted by my good friends Will and Angie Pridmore. Lots of friends from around the Southeast well be attending, so it's going to be great to see everyone and hang out for that weekend! It's September 11th and 12th in Bessemer - so be sure to check it out if you're in the area.
The little pastel girl from my previous post is here and she's AWESOME! I can't wait for her to grow up and figure out how she'll work in my breeding plans, but whatever I decide to do with her, she's going to make some pretty babies! She's just an amazing pile of yellow goodness!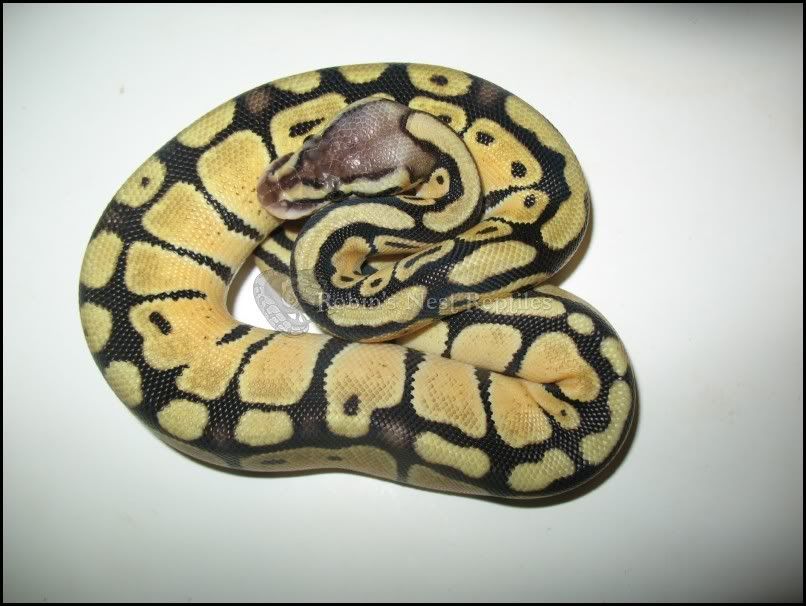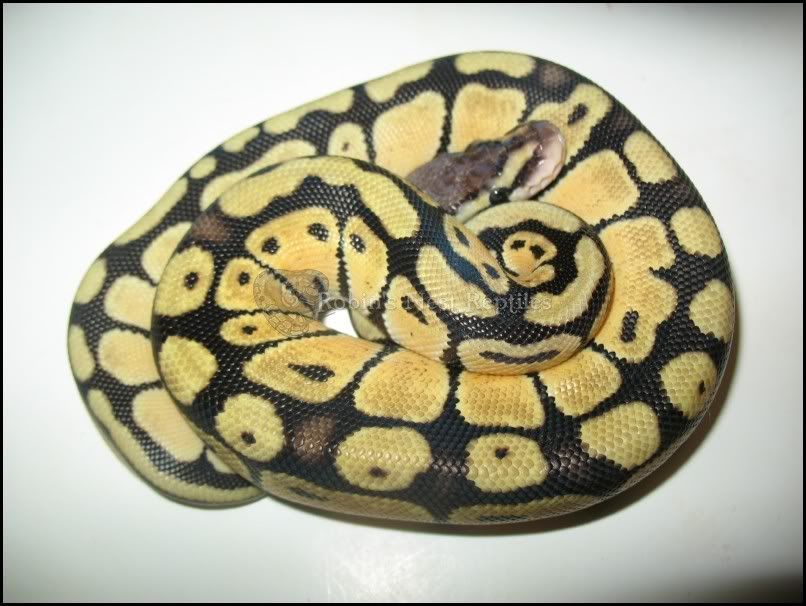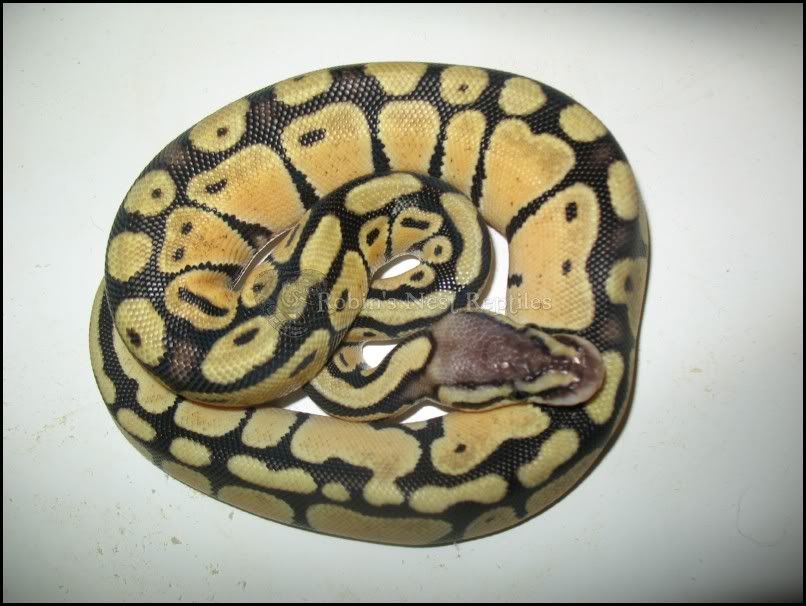 What an insane year 2010 has been so far! My "real" job has been going gang-busters which is great for us - we're set to have a record quarter for the company and next quarter looks to be even bigger! Make the days fly by - and I do have to say that I love my job and the folks I work with. I don't dread Monday's other than the fact that it means the weekend's over, but I don't dread it because it means I have to go to work.
On to The Nest news. We've only had 2 clutches on the ground so far, one "dinker" and one lemon pastel clutch. The pastel clutch is due to hatch at the end of July - fingers crossed for a lemon pastel heavy clutch - the ball gods owe me a streak of good luck! Ok - I guess I "lied" a little - I've had 3 clutches on the ground - my only mojave clutch was a clutch of infertile eggs - so I'm not really counting them - breaks my heart though.
In more recent news, I made the "mistake" of following a link to
Garrick DeMeyer's
site recently. I was not in the market for a new snake, but this beautiful pastel female just POPPED in comparison to his other offerings and I knew I had to have her! I learned later that a few other's of my friends who I asked for their opinions were waiting patiently on the sidelines to pounce on her, if I'd decided NOT to get her. This is Garrick's photo that he gave me permission to post.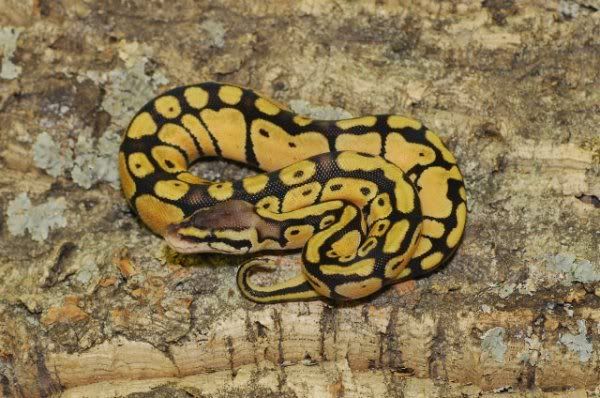 I'm actually very excited to add this girl - she's going to be a great addition to The Nest's future breeding program!
Hope all is well with everyone, and your season's are going great!
The Easter Bunny visited The Nest today - or was it the Easter Snake? I was cleaning the snakes today only to be met with a female sitting on eggs. I never witnessed this female glowing or even ovulate, so finding her sitting on a beautiful clutch of seven eggs was a bit of a Holiday surprise! All seven eggs have strong veins.
This is a breeding loan with
Justin Kobylka's
big "normal" female and my 100% het clown male that Justin produced. She's my boy's mom, and Justin suspects that there may be something else going on with her - so I was on board when he asked me if I'd be willing to breed her son back to her this season. In sixty days we'll see!!!!
A few new additions to the Nest recently. As I mentioned before, I was picking up a beautiful Albino male from
Louis Kirkland
, but little did I know that when he delivered him to me at the new WARE show (West Alabama Reptile Expo) that he'd bring along a few beautiful Lesser Platinum females that would call to me and I'd be coming home with a new female as well.
Well, they're here, and they're beautiful, and they've both had two meals already! Thanks Louis! I'm thrilled to have them both!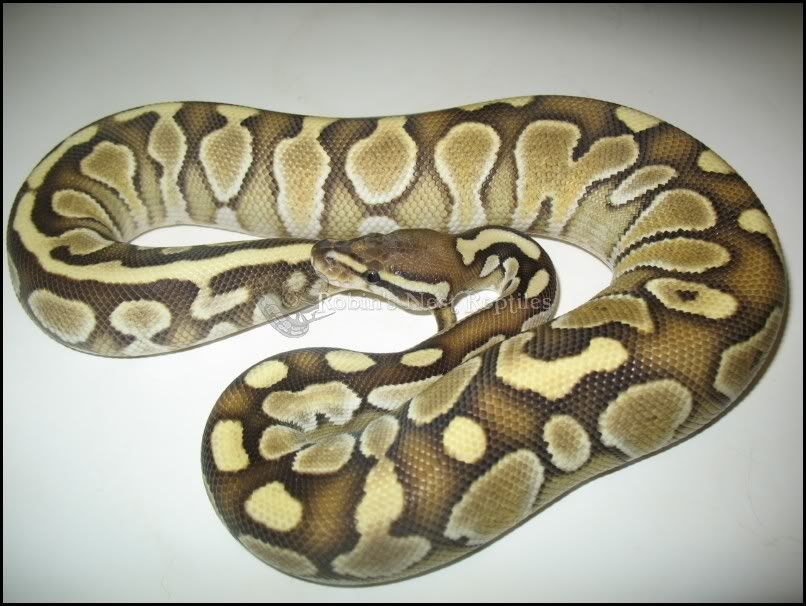 I also picked up a beautiful little Imperial Pueblan at the show. He's a hybrid that's made by breeding a Banana California King to a Pueblan Milksnake. He was just too pretty to NOT come home with me. I'm thinking of naming him Joe Tuxedo - because he looks like he's dressed to the Nines!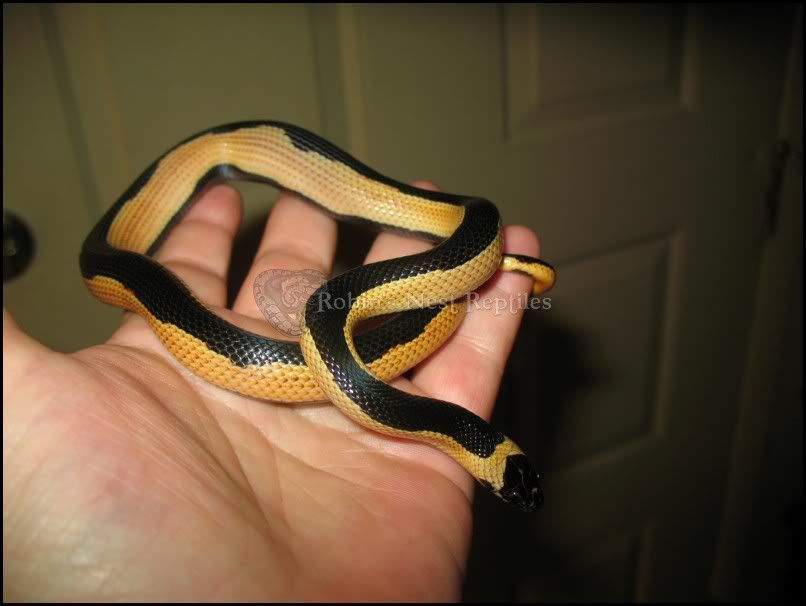 And his belly is also black!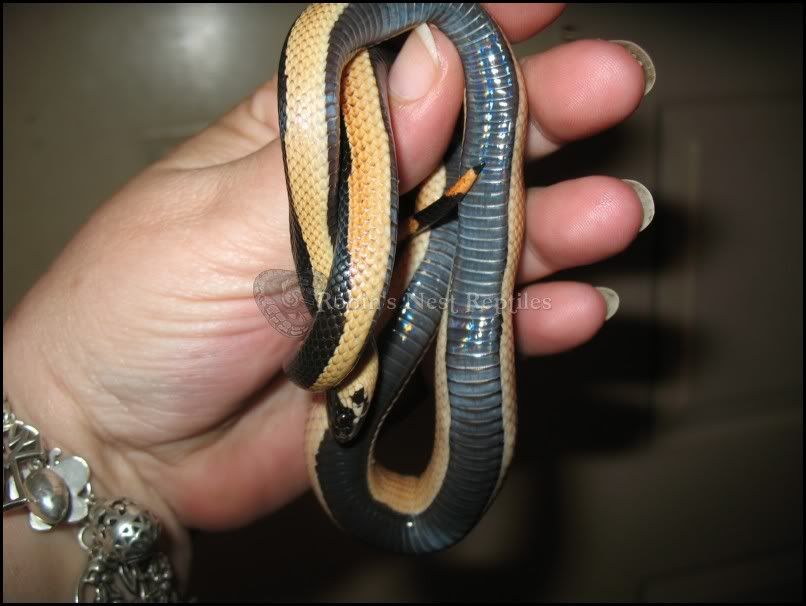 He's also settled in nicely to The Nest and has had two meals here so far!
Thanks for checking in - I can't wait to update the Journal with more clutch announcements and hatch pictures!